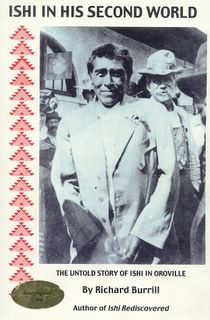 Feather River College anthropologist: Ishi in Oroville
By DAN BARNETT
Thursday, June 02, 2005 -
Almost a century has gone by since Ishi was discovered at the Charles Ward Slaughterhouse in Oroville the night of Aug. 28, 1911.
Alfred Kroeber, head of the University of California's new anthropology department which housed Ishi at its San Francisco museum until his death from tuberculosis in 1916 believed the Indian to be a kind of time traveler. Ishi could reveal a world unspoiled by "progress" if only he could be removed from Oroville to more scientific surroundings.
Kroeber's wife, Theodora, wrote "Ishi in Two Worlds" when she was 60; first published in 1961, the book became the standard reference but it has not lacked critics. In 2003 Alfred and Theodora's sons, Karl and Clifton, edited an anthology, "Ishi In Three Centuries," which is a kind of apologia for their father's treatment of Ishi as an anthropological wonder and not as a man. The repatriation issue was the focus of "Ishi's Brain: In Search of America's Last Wild' Indian" by Orin Starn, also published in 2003.
Dozens of articles on Ishi have also appeared, including work by Steve Schoonover, city editor at the Enterprise-Record.
Feather River College anthropology instructor Richard Burrill published "Ishi Rediscovered" in 2001 and now "Ishi In His Second World: The Untold Story of Ishi in Oroville" ($21.95 in paperback from The Anthro Co. out of Chester; write rburrill@earthlink.net for information).
Replete with many black and white photographs of Ishi and his surroundings in Oroville, the book is an attempt to pull together newspaper accounts and oral histories of the "eight days and seven nights" Ishi spent in town. The first part of the book is structured around speeches given in the 1960s and 70s by Adolph (Ad) Kessler, "one of the four butchers working at the slaughterhouse when Ishi was surrounded, handcuffed, and taken by sheriff's buggy to the Butte County Jail"; Kessler was 19 years old at the time. He later said, "I remember it pretty well because it was so unusual at the time, and also because ever since then people will ask, . . . tell us how you found Ishi."
Kessler, who served as Oroville's police chief for 18 years, said Oroville Sheriff "John" B. Webber, who had put Ishi in a padded cell to protect him from other prisoners causing rumors that Ishi was "wild" kept hearing "who is he?", "what is he?" from the inmates. "The sheriff just shortened it to Ishe' and," says Kessler, "told everyone his name was Ishe."
The book also takes up the story of UC Berkeley anthropologist Thomas T. Waterman, who, under the auspices of Alfred Kroeber, arrived in Oroville Sept. 1 in an effort to communicate with Ishi; three days later Waterman and translator "Indian Sam" Batwee brought Ishi to San Francisco.
The author takes issue with a number of statements made in the popular press and in Theodora Kroeber's book. For example: Ishi may have been hungry the night he was captured, he writes, but he was not "emaciated to starvation" as Kroeber claimed.
The photograph on the cover, taken Sept. 4 by Florence Danforth Boyle with a Kodak "box" camera, shows Ishi and Bill Collett, the pipe-smoking owner of Collett's Express baggage delivery service. (Boyle's memory is that Waterman called him "Ici," "man.")
"Ishi In His Second World" reprints many contemporary newspaper stories in which, Burrill says, "Ishi was promoted ... as a curiosity, not a fellow human being. Ethnocentric thinking and racism were common. Few of the nation's leaders believed that the Indians (non-whites) had a right or a title to the land that they had inhabited for so many eons."
Burrill adds that "Ishi, little by little, recovered his spirit and the last years of his life" were mostly serene. "On the whole, Ishi took very kindly to civilization... (He) lived without self-pity even though all had been taken from him."
The book includes a plea for an Ishi stamp to be issued by the Post Office Aug. 28, 2011, to commemorate Ishi's appearance in Oroville.
* * *
A Fish Flew Through the Porthole: A Sailing Adventure Narrated bya Very Reluctant Sailor by Gerri Miller ($19.95 paperback) has just been reprinted. It is available in Chico at Lyon Books and Galleria Books as well as from Stansbury Publishing and online. My enthusiastic review appeared earlier in The Buzz. Think summertime reading!
Dan Barnett teaches philosophy at Butte College. To submit review copies of published books (no manuscripts please), or to make comments, please send e-mail to dbarnett@maxinet.com. Copyright 2005 Chico Enterprise-Record. Used by permission.