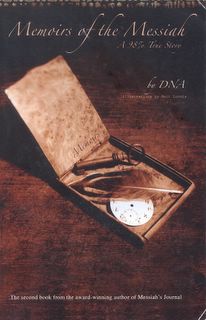 Chico's DNA: A "Messiah" who wants to get into your genes
By DAN BARNETT
October 21, 2007. Chico's own DNA is running for president. As the Messiah. Sometime between now and then he will publish the best-selling "Messiah's Journal," establish MessiahInc.com with a ragtag group of ne'er-do-wells and the lovely 26-year-old Jessica, his girlfriend, and will set out to challenge "the entire process of religion and politics."
"I ran for Mayor four times in Chico, CA, and lost four times," he writes in "Memoirs of the Messiah: A 98% True Story" ($20 in paper from Lyon Books in Chico, Paradise Lost Specialty DVD Store and Duffy's Tavern). "This was before Messiah's Journal' came out and I wasn't talking publicly about being the Messiah. And while I was a four-time loser, I didn't fare so badly in the polls. In the last election I was only 2,000 votes shy of winning.
"I never spent a lot of money on campaigning. In that last election, for example, the winner spent $45,000 and I spent less than $200. Instead of throwing cash around, I organized outrageous publicity stunts. Once, I told the press naked people were going to storm a rally called Nudists for Nader I was coordinating. The story ran for three days." It's an easy jump for the local media monger to go national. DNA gives us a Messiah full of malarkey and self-doubt.
The character DNA in the story bears some considerable resemblance to the Chico man with the same name who performs portions of the book at various venues. Structured as a loose diary of the years 2007 and 2008, each chapter or "revelation" contains a mixture of Jack Kerouac wackiness, Russian-Jewish angst, juvenile humor, conspiracy theories, Oroville-bashing, Jesus-talk, cartoons by Matt Loomis, lots of references to sex, beer and Chico, and a generous piling-on of standard-issue expletives. This is high-octane borsht-belt shtick. Think Nathan Lane on acid.
The author DNA is intrigued by DNA (both the character and the genetic stuff). The Messiah's slogan is: "Most Messiahs want to get into your pockets. DNA is already in your genes." Toward the end of the chronicle, the Messiah turns thoughtful. "I've read editorials that analyze my personality, and the accepted' media spin is that DNA is a rebel. It is true that I don't like to be told what to do. I also dislike being put in situations where I feel comfortable. I attribute my perceived ornery spirit more to social anxiety than any deep-seated move to rebel. A the same time, who am I kidding? I love usurping power and messing with people's minds. At least I think I do."
Through a series of unfortunate circumstances ("The Government" is more insidious than even the Messiah thought), DNA finds himself on the lam in 2008. In the final chapter he grows even more thoughtful. No, he isn't Jesus, the Messiah keeps explaining. You don't have to be Jesus to be the Messiah. There's a different strand of DNA at work in the world. "By the time I was 30," DNA writes, "I had lost all my grandparents, all my aunts and uncles, my parents and my brother. And I don't mean I lost them,' lost, like, at the mall. I mean dead. I've thought that I have some sort of Messiah complex that is born out of the shock of so much loss in my life. ... And perhaps it's part of my delusion, but I know that the losses were God's way of tempering my soul."
So where's Jesus? "Here's what I've come up with. Just as the Christians adopted Judaism by reinterpreting the Old Testament to show it prophesized the coming of Jesus (much like Beatles fans look at the back of Abbey Road to prove that Paul is dead), I have adopted the New Testament to show how it prophesized DNA's coming. ... The standard twist on the subject, no pun intended, is that God made everything. So, therefore, God made DNA. DNA is the basic building block of all life, and contains the blueprint of all things from a cold sore to Demi Moore. God must be one amazing architect."
Earlier, Letterman had interviewed the Messiah. "In real life ... you know the difference, right, between your book and real life?'
"I answer honestly, Gets harder and harder every day."'
Laughter.
"Commercial break."
Dan Barnett teaches philosophy at Butte College. To submit review copies of published books (no manuscripts please), or to make comments, please send e-mail to dbarnett@maxinet.com. Copyright 2005 Chico Enterprise-Record. Used by permission.