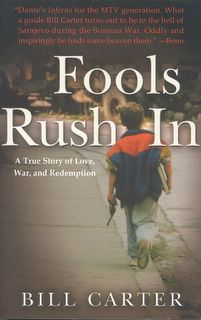 Former Chicoan inspires U2's "Miss Sarajevo"
By DAN BARNETT
The irony of a beauty pageant in the midst of the siege of Sarajevo in the mid-1990s was not lost on Bono, whose guiding spirit plays a major role in the second part of Bill Carter's memoir, "Fools Rush In: A True Story of Love, War, and Redemption" ($14.95 in paperback from Wenner Books).
The U2 leader shepherded Carter's award-winning documentary "Miss Sarajevo" and contributed its theme song, where there's a reference to the winner "surreal in her crown." Luciano Pavarotti adds that though love is supposed to come to the "thirsty lands," "I cannot wait for love anymore."
Carter found himself part of The Serious Road Trip -- an oddball collection of Aussies and Brits and Irish and Americans driving trucks painted with cartoon characters, dedicated to delivering tons of food and other essentials to Sarajevo in the midst of war. In the first part of the book the reader is confronted with war in all its insanity, lots of alcohol, sex and drugs, the corrupt stupidity of Big Organizations (especially the United Nations) and sadness that approaches poetry.
A quarter million were killed in all of Bosnia; 1,600 children were killed in Sarajevo -- that city where Coats and Serbs and Muslims had lived peacefully side by side -- by artillery or snipers.
Yet "Fools Rush In" is not really about the ins and outs of the Bosnian War. Instead, it's a story of personal grief as it is mirrored, and transformed, by the surreal conditions in Sarajevo.
Years earlier Carter escaped an abusive father and traveled the world -- until he got a job in Alaska. "It was in Naknak that I fell in love with Corrina, a 19-year-old college student who sat in the back of the lunchroom eating green apples and reading."
Eventually they hook up, soulmates and move to Chico. Corrina is pregnant and Carter is away polishing cars for a commercial when she is involved in a traffic accident. She was never to leave the hospital.
"I walked a few miles until I reached the banks of the Big Chico Creek. It was dawn when I put my feet in the cold water and watched the sun rise. How did the sun possibly find the strength to rise that day, of all days? ... It wasn't until weeks later ... that I realized she had died on 19 June, exactly one year to the day from when we first met."
The pain is searing and he cannot seem to escape. "God. This is Bill here. So, now what? You give us life so we can love, then lose it and live with the pain? That's it?"
And yet he begins to realize something: "Grief produces an abundant energy that must find a way to burn itself up. ... The truth, which is rarely admitted in Western cultures, is that grief has a way of making you feel more alive." He is impelled to deliver humanitarian aid in Bosnia. "What is it about love, or the grief of losing love, that makes a person want to swallow the wide world whole?" He learns he must "build a new chamber inside my old self. One that doesn't replace the old love, but allows room for a new one." And the spirit of Corrina is finally at rest.
In the book's second part Carter explains his crazy notion of bringing the plight of Sarajevo live by satellite during U2's Zooropa concert tour and how Bono befriended him. A third, shorter part brings the war to an end and an epilogue notes that on "23 September 1997, nearly two years after the signing of the Dayton Peace Agreement marking the end of the war in Bosnia, ... U2 finally played a concert in Sarajevo."
For all Carter's media attention (he's working on a screenplay of the book for a new Hollywood studio) "Fools Rush In" is about a love made expansive by grief, a profane chronicle tempered by the divine.
"And the dead? Don't worry about them, they are never far. They're always around to remind us of our ultimate fate. The trick, I had learned, was not holding on so tight to life that you became too scared to live. That was the same as living to die. No. The thing was to live like you had already died."
Dan Barnett teaches philosophy at Butte College. To submit review copies of published books (no manuscripts please), or to make comments, please send e-mail to dbarnett@maxinet.com. Copyright 2005 Chico Enterprise-Record. Used by permission.