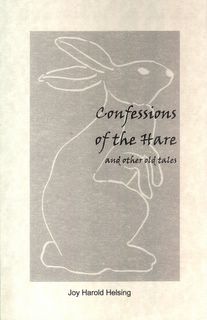 Skyway poets, Joy Harold Helsing, featured Saturday at Chico's Art, Etc.
By DAN BARNETT
Patricia Wellingham-Jones of Los Molinos is not only a published poet but owns a small publishing house herself. Saturday PWJ Publishing will host a special reading and book signing featuring the "Skyway Poets." The event is free and open to the public, and is scheduled from 7—9 p.m. at Art, Etc., 122 W. Third St. in downtown Chico.
Invited authors include Patricia Wellingham-Jones, Sally Allen McNall, Audrey Small, Lara Gularte and Sylvia Rosen, along with Kathleen McPartland and featured poet Joy Harold Helsing. PWJ Publishing has printed a number of chapbooks from several of these authors; Wellingham-Jones' own broadside, "Mill Race Cafe" ($4.50 from Rattlesnake Press) contains "Three Queens," about poetry, and begins slyly as follows:
They hunch over a table
scattered with papers,
scratch out phrases,
toss away adjectives, crush
adverbs,
get rid of i-n-g endings.
Helsing herself is both funny and sly, and her new book of poems, "Confessions of the Hare and Other Old Tales" ($15 in paperback, which includes shipping and handling, from www.wellinghamjones.com) brings new twists to Greek myths, Biblical stories, Shakespeare, nursery rhymes and Don Quixote.
According to an author's note, Helsing earned a doctorate in clinical psychology, "won two top awards for poetry in the Atlantic Monthly college writing contests," and, after life in the Bay Area, now joins the Skyway Poets.
The layout of the poems in "Confessions" is open and inviting, and for each thematic section Helsing includes a list of characters with brief descriptions so each reader can partake of the fun. In the poem that gives its title to the book, the hare laments that "I could have won that race / without a doubt." But the hare was "young and foolish" and his running ability caused only resentment: "First came boos and jeers, / then clods of earth, rotten fruit, / even stones. I stopped, / not to go to sleep / (that's all a lie), / but to mourn the loss of friends." Then:
I let him pass to win the cheers
that I would never get
even if I won.
Now I run fast
only
when no one's there.
Several of the five poems in the section called "Testaments" exchange the humor of the other sections for serious theological questioning. Eve rebels and as she looks back there is an edge to her remembrance:
I miss those days. But they are
past.
And I no longer blame the
snake. We are
as we were made to be. It was
the serpent's nature
to seduce, ours to yield. If God
made us to seek
and question, was it such a sin
temptation overcame us?
Of Cain, Eve sighs, "He should not / have harmed his brother. I do not excuse him. / But he too did as he was formed to do. ... / Though I worship Him / as He requires, obey as He commands, / I will never till my final breath forgive / this God."
Then Noah, with a similar complaint:
Were they all so bad? We
knew our neighbors
sinned, but children, newborn
babes?
Did they have to be destroyed?
Enough, enough. I must not
question
His judgment. ...
In the first section Greek myths are retold. Cassandra, the prophetess of Troy, laments that "There is no limit to the cruelty of the gods" who "remain impassive on their Olympian peak."
At other times the grand forces of the world seem not to be impassive at all. The sirens, those deadly mermaids whose song lures sailors to certain death, are here as well.
As the ship draws near, they
start to sing,
first one, then another, and
another,
a bell-tone chorus weaving
tendrils of promise and mystery
into a net of seduction.
Helsing's own simple verse has something of that mystery and seduction. But there are romps here as well as in "Soliloquy, Hamlet, First Draft." The first lines read: "To exist, or not to exist: That is the conundrum." Then: "To die, to sleep; / To sleep: perchance to dream: aye, there's the abrasion. ..."
Helsing's poetry seems effortless, yet there is craft here, and a writer not too timid to wrestle with the gods and, in "Them," to warn that
Grown-ups are coming
with well-meaning schemes
to rob you of wonder
and trample your dreams --
hide, children, hide!
Dan Barnett teaches philosophy at Butte College. To submit review copies of published books, please send e-mail to dbarnett@maxinet.com. Copyright 2005 Chico Enterprise-Record. Used by permission.