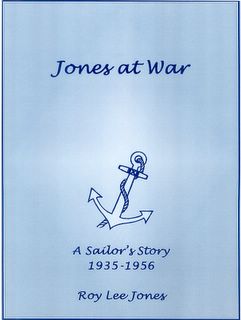 Los Molinos resident remembers time of war in the Pacific theater
By DAN BARNETT
"Jones At War: A Sailor's Story, 1935-1956" is about a man who seemed, Forrest Gump-like, coincidentally to be at some of the most important crossroads in 20th-century history. These are the reminiscences of Los Molinos resident Roy Lee Jones, now 88, lovingly edited by Roy Helsing of Magalia, whose wife, Joy Harold Helsing, is one of the "Skyway poets."
In an e-mail, Joy writes that "When my husband met Jones he was fascinated by the tales he told, from pulling bodies and survivors from the water at Pearl Harbor on December 7, 1941 to the invasions of Iwo Jima and Okinawa to the A-bomb tests at Bikini Atoll to the Inchon invasion in the Korean War. Not wanting these stories to be lost, my Roy conducted a series of taped interviews with Roy Jones, edited them slightly, and added historical information and photographs to put the tales in context."
The book is published by Jones' wife, Patricia, through her own PWJ Publishing. The large-size paperback is available, for $12, plus $3 shipping and handling, from www.wellinghamjones.com.
According to an editor's note from Roy Helsing, Jones wrote a memoir in 1997, entitled "The First Eighty Years," in which his "all too brief descriptions of his experiences in the Navy in World War II just begged to be expanded because they were based on 'being there'."
Jones was born in 1917 in Clayville, Chesterfield County, Va., and joined the Navy in 1935. Helsing, in the foreword, writes that Jones "was the prototypical sailor -- farm bred and raised -- with no knowledge of the bounding main. He joined the Navy during the Great Depression and rose from the lowest rank to become an officer (Lt. Jg.)."
Jones writes that he led a strike in his junior year at high school. Rather than close the school so everyone could attend the track meet with the school's biggest rival, the superintendent that year allowed only participants to leave class. Jones was miffed and helped stage a student walkout for a couple of hours. When the superintendent asked strike leaders to come to his office for a little talk, only Jones showed. The superintendent "thanked me for being man enough to admit my mistake. No disciplinary action was taken against me. ... In 35 years of supervisory and management jobs I used the same principle. If an employee made a mistake, acknowledged and took responsibility for it, I never took any further action."
Graduation from high school in the Depression era left Jones with no job and no money and, since "student loans and free junior colleges had not been invented then," he signed up with the Navy. Assigned to the submarine tender Canopus, which patrolled near Guam and the Philippines, Jones includes a memento of his transformation from "crawling, sniveling Pollywog" to "Shellback" by virtue of crossing the equator. It was important to pay respects to King Neptune and, says Jones, while the initiation is not "brutal," it "may be boisterous."
The heart of Jones' reminiscence comes in 1941. After reenlisting in August of that year, in October he "boarded the USS Oklahoma, a battleship, for transportation to Submarine Squadron Four at Pearl Harbor for eventual assignment to submarine USS Cuttlefish, which was en route from Connecticut. We arrived at the submarine base at Pearl 31 October 1941. The Oklahoma went on to take its place on 'Battleship Row'."
As Jones recounts, "I had weekend leave Saturday and Sunday, 6 and 7 December. There was a radio ... and we heard that the Japanese were attacking and all hell had broken loose. It must have taken me 25 seconds to get into my clothes and start down to the bus stop." Driven to Pearl by a Japanese civilian worker, Jones "took a temporary job on a tugboat, picking up people from the water -- survivors and bodies. We went past the USS Oklahoma twice. She was sunk. They later raised her and tried to tow her to the States, but she was lost at sea. I had friends on the Oklahoma. Some made it. Some didn't. That's the way it was."
The book includes almost two dozen black-and-white photographs, some from Jones' personal collection, and is a fitting tribute to a member of the "greatest generation" who saw so much and did so much, all in a day's work.
Dan Barnett teaches philosophy at Butte College. To submit review copies of published books, please send e-mail to dbarnett@maxinet.com. Copyright 2005 Chico Enterprise-Record. Used by permission.